Jen Manufacturing, inventors, designers, creators, and producers of the ONE and ONLY POLY-BRUSH® invite you to explore the "Original" which is, has been, and always will be Proudly Made in the USA.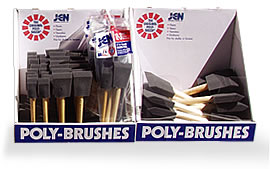 With almost 50 years of experience manufacturing the highest quality polyurethane foam brushes, Jen Manufacturing has the experience to meet your needs and expectations, whether you are a retailer, wholesaler, or distributor in the national or international marketplace.
If we have not contacted your company yet, then we encourage you to contact us with any questions, comments, or concerns you have about our company, our product, or our industry.
As a privately held, family business, we would like to encourage your interest in our product line, which has often been imitated; yet never duplicated. No other product on the market is comparable in its quality of materials, quality of construction, or quality of performance, though you will find the Original POLY-BRUSH® competitively priced.